Burrises Go Greek - Santorini
Hello Santorini!
We arrived at the Santorini airport at 7:50, a super short flight from Athens! I arranged a transfer from the airport to our hotel for 12 euro per person (Eloise didn't count) and that was the absolute best deal I could find. Santorini is interesting because the streets are so small and a lot of hotels don't have streets that go directly up to where you're staying, so we had to walk a short way (maybe the equivalent of a block!) to get to our hotel.
Oh my word, OUR HOTEL. We paid a little more than we normally do for our stay in Santorini and it was worth every penny! And still pretty reasonable compared to the other choices available. Important, book your hotel at least 4 months in advance, if not sooner! Santorini books up super quickly and the later you book you'll end up with slim pickings. We stayed at Altemar Suites in Thira/Fira (pronounced "th-ee-ra"). We loved this area, less crowded than Oia (pronounced "ee-ya") but not as far away from the action as some of the other towns.
After a quick nap for Josh & Eloise, and a relaxing dip in the balcony pool for me, we headed off into Thira for lunch (gyros, duh!) then to the bus for a trip to Santo Wines! The main bus hub for all of Santorini is in Thira, it was really easy to navigate and the info booth was really helpful. Once you're on the bus and moving an attendant comes around and takes your money, so have your cash ready! When you get on make sure to let the attendant know where you're headed so they don't miss your stop! From the bus station in Thira it took less than 10min!
Santo Wines was amazzzzing. The views are almost unearthly and make you feel like you're in a different world. We shared the 10 glass sample option and it was only about 30 euro…and it was plenty of wine for the two of us! We struggled a bit finding the bus stop when we left, all the driver said was the stop to go back is on the other side of the street…in reality - directly leaving Santo you'll cross two streets straight ahead, hang a left down the hill a little and you'll see the stop on the right. You're welcome ;)
We took the bus (after we finally found it) back to the Thira hub and found the next bus we needed to take to Oia! If you get carsick easily (or not easily..ha!) prepare yourself. This drive up the side of the cliffs was probably the scariest car ride I've ever been on. Those buses take the turns at a crazy speed and 20min felt like an hour. Once you get off the bus, make sure you check the schedule posted for return times! The town is so touristy that they've made it very easy to understand and make sure you don't get left in Oia after the last bus of the night!
You could spend days in Oia and still get lost and find new areas that you didn't know existed! A few places that you have to check out: Oia Castle, Atlantis Books, Church at the center of Oia (not 100% sure of the name honestly!) and the iconic Three Blue Domes. Finding the domes is tough, but I have easy directions for you! From the main shopping street in Oia, turn left at the alley next to the jewelry store called Apollon Gallery (FYI, we were told it was called something different so name may change by the time you go!). Once you see the church bell towers on the left…take the path on the right and then you should be able to find the domes! Gonna reiterate that Oia is very touristy…so be prepared to bump elbows and be irritated as heck of inconsiderate tourists. We saw a couple people nearly get knocked off the ledge by the domes!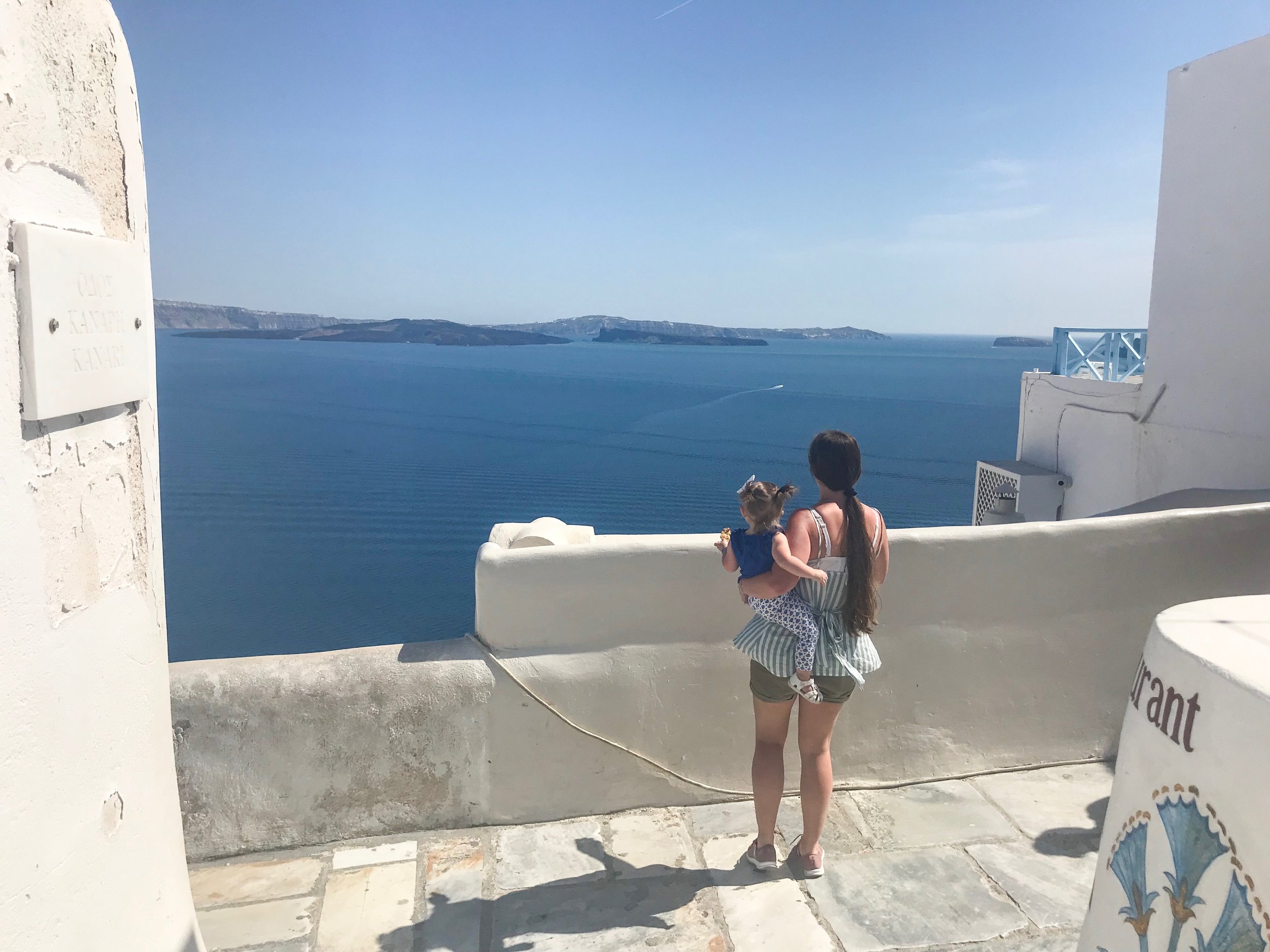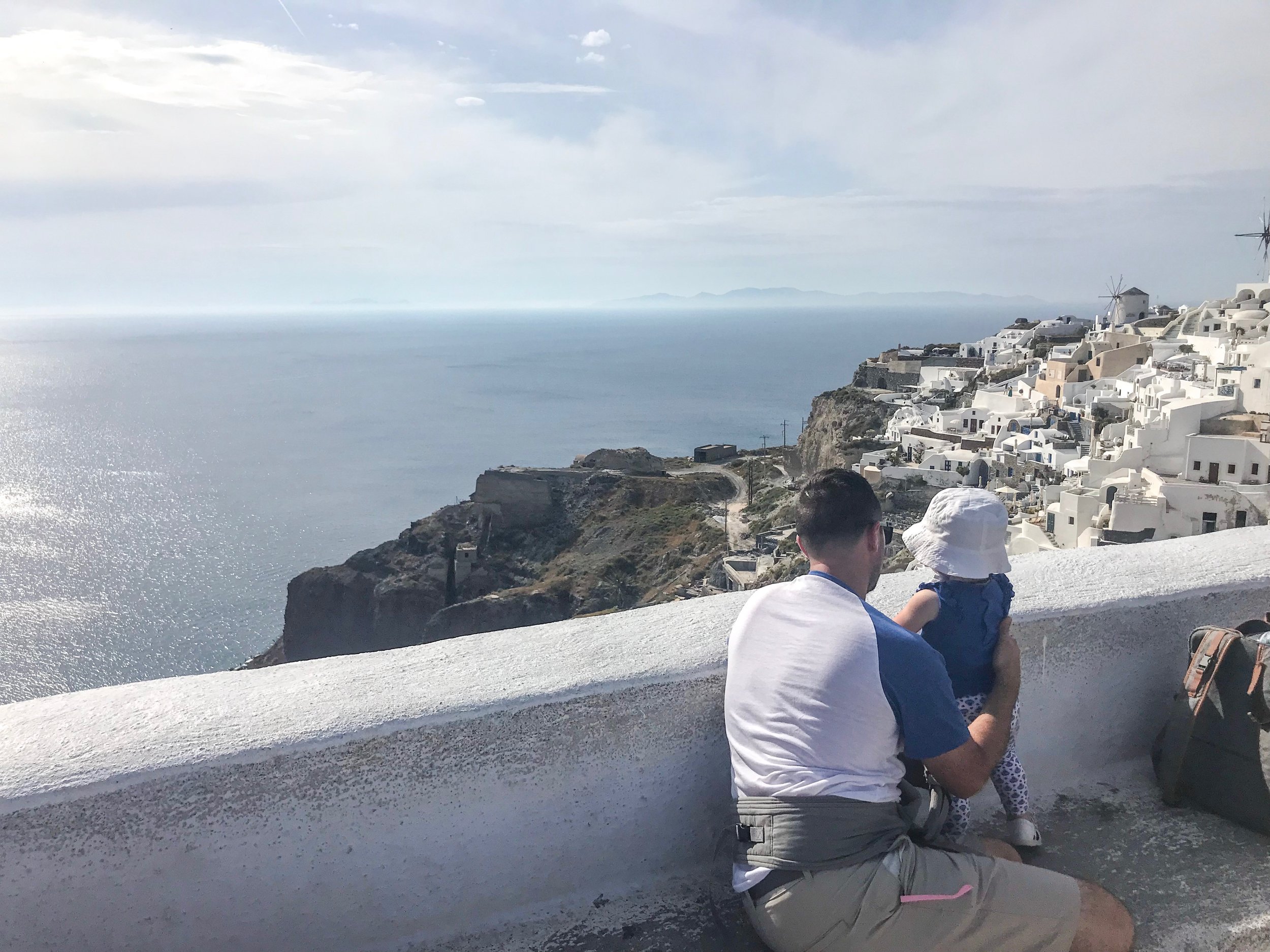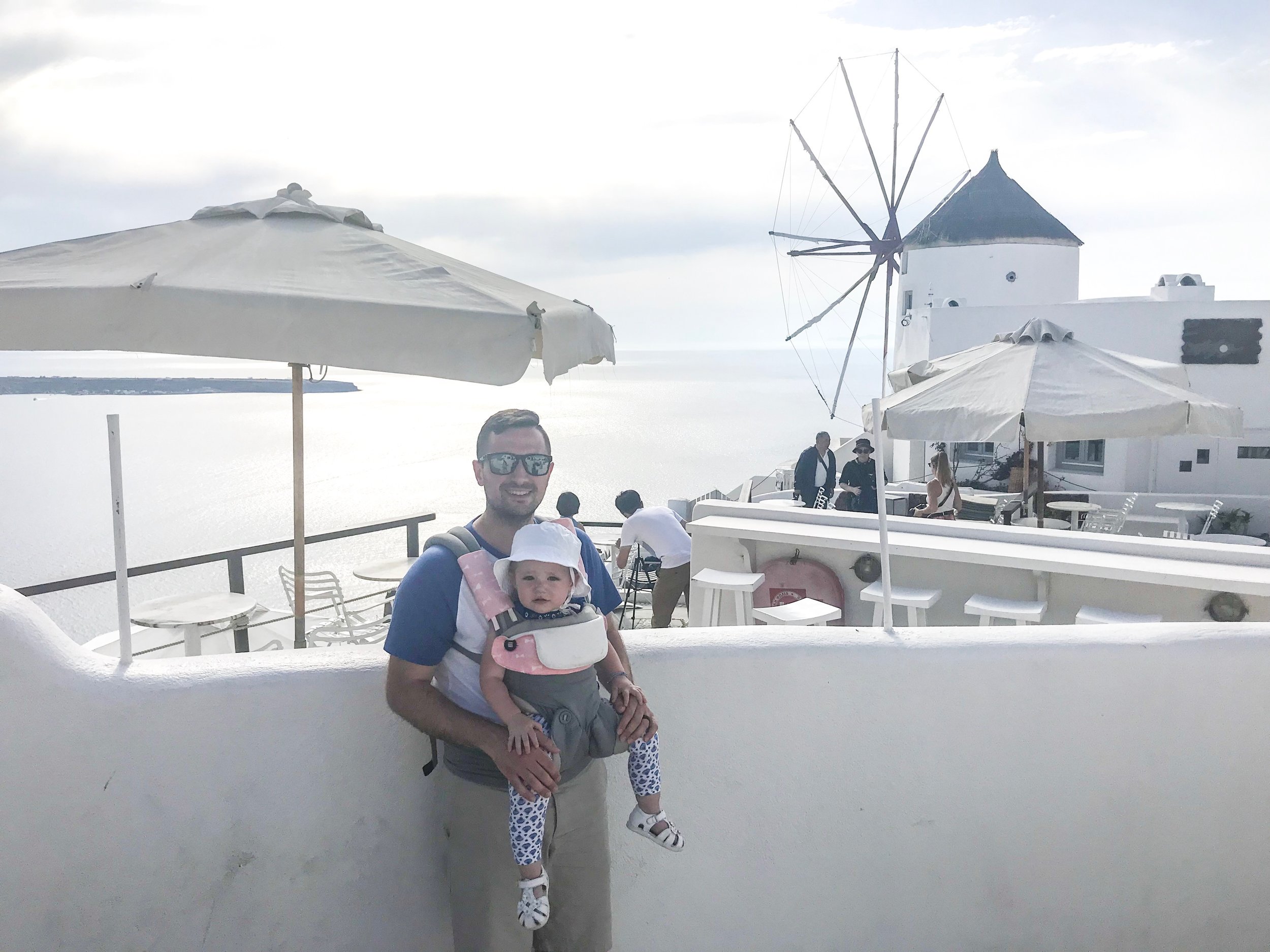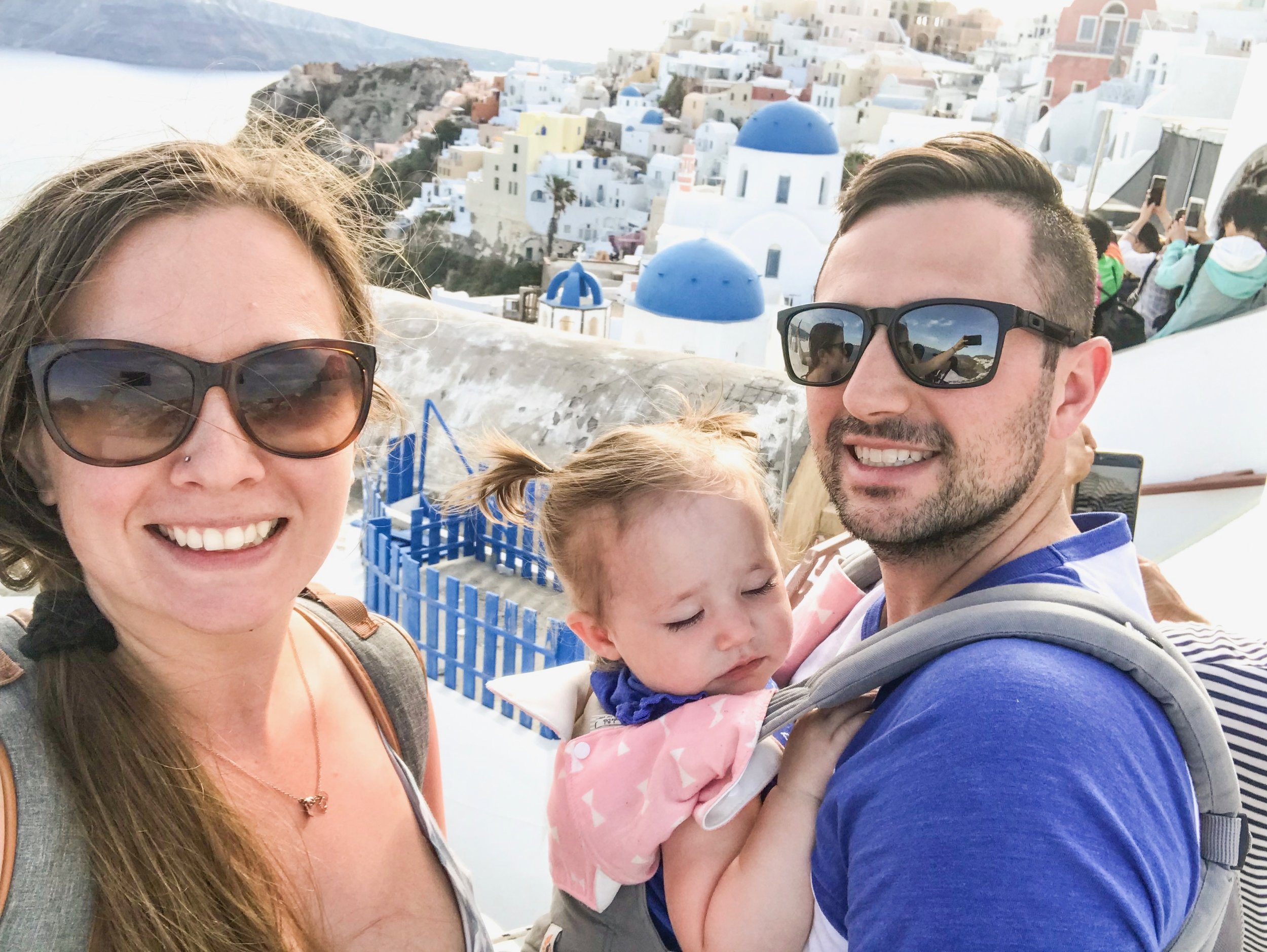 Speaking of tourists….you would not believe the amount of people that sat and took Eloise's picture while we were in this little square. She wasn't doing anything spectacular, just sitting there all cute then people got out their phones and even big cameras to take what seemed like hundreds of pictures of our girl! We were kind of uneasy but she was living it up and having the best time entertaining all the Asians! ;)
2 hours before sunset we noticed people already claiming their spots to catch sunset! Oia Castle seems to be a pretty popular spot. We didn't stick around to fight the crowds though, because we had dinner reservations at the top seafood restaurant in Santorini – Amoudi Bay Fish Tavern. The walk down wasn't terrible (be mindful of the poop!), the food and view were incredible. There were two downsides – we kinda missed the sunset….but it was also really cloudy that first night. So that was a bummer! The worst part of it all was the walk back up those 300+ steep steps. While toting a 25lb baby (well, Josh not me! Haha!).
After the terrible walk up we made our way back to the bus stop and stumbled upon this gorgeous place with a nighttime view. Be warned, there is literally a line to wait so you can get your photo…be prepared to wait and be prepared to tell people to back off and get in line, because they will jump in front of your shot!
Day 2 in Santorini we had to be up bright and early for family photos in Imerovigli. I spent way too much time researching photographers in the area and struggled finding the perfect person, but finally came across https://www.n2sphotographers.com/. Spiros was wonderful to work with and the final photos were amazing – and being a photographer myself I'm a tough critic when it comes to my own family photos :) There were too many to choose from, so I blogged the whole session >> here! <<
Wish we would have had just a liiittle more time time to explore Imerovigli, or at least brought shoes/clothes to change into! It was such a neat little town, out of the way of the hustle and bustle!
Onto our final big part of Santorini and the one we were most looking forward to! The constantly recommended catamaran cruise. We were super unlucky with the weather, it was rainy but mostly stopped by the time we left…but the temps dropped so it was chilly! A bummer, but it's the chance you take trying to beat the crowds and visiting in May. I booked our sunset cruise at least 3 months in advance through Spiradakos. Hotels will offer this but you can save a little $ doing it yourself ahead of time. The cruise included round trip transport from hotel to the port, stops to see the white sand beach, the black sand beach, the old port and then a swim in the hot springs by the red sand beach! It also included unlimited drinks (wine, beer, water and maybe soda?) and a seriously DELICIOUS meal consisting of greek salad, pasta, chicken, shrimp…and other things I know I'm forgetting! I may have had a few too many wines…so daddy was in charge of Eloise – ha! Even though the weather was crummy it was still an amazing time, the other passengers were friendly, the crew was amazing and one crew member even held onto Eloise so Josh and I could jump into the hot springs! The water was too cold for her to get in, but FYI – these types of cruises normally don't have infant life jackets so we brought our own to be on the safe side!
Our last sunset in Santorini was not as "meh" as the first, but definitely not what you expect after hearing about them over and over! Don't get me wrong, it was beautiful But it also wasn't the most beautiful sunset we saw in Greece :)
Day 3, our hotel had the same 12 euro per person transfer set up for us to head to the new port. This is important, when catching a ferry make sure to tell them you're going to the new port and not the old. You'll probably miss your boat otherwise ;) We were advised to be down there an hour ahead of departure. We ended up getting there about 90min early so had time to grab an (expensive) smoothie then we were herded into the chaos of boarding. It really is chaos, just pay attention to the departure/arrival board displayed on the outside of the boat, pick a crowd and go with the flow. And make sure when you get on the ferry you put your luggage in the proper spot! If you aren't going to the final destination you get hurried off so quickly and don't have a ton of time to grab your luggage…these Greeks like to keep on schedule! I used ferryhopper.com to book our tickets 4-5 months before the trip – the easiest site to understand and reasonable prices!
We loved Santorini, but like I said it is VERY touristy. We knew that going in but never expected the crowds we saw (like in Oia) in "slow season". If we ever go back, we will definitely make time to hit more wineries and visit the black sand beaches of Kamari! If you're traveling without kiddos, definitely rent an ATV instead of taking the bus…looks like so much fun and gives you a lot more freedom J Onto Naxos!