Burrises Go Greek - Athens
First stop in Greece - Athens!
We arrived in Athens around 6pm, made it to our AirBNB and headed out for a quick dinner. Our AirBNB owner actually owns several properties and drives a cab, so it was super easy to set up our transfer from the airport. (instead of normal 40€ or more each way we paid 33€). Sortiris and Ross were so helpful with our entire stay in Athens…I'll link their contact info at the end! We stayed in Vourvachi which was super close to a lot of great food & within 20 minutes walking distance to pretty much all the places we wanted to visit! After dinner we headed straight to bed becauseee a day of traveling with a 1 year old calls for a good nights sleep.
Day 1
Acropolis - First things, wear good walking shoes and if you're taking a smallish kiddo, take a baby carrier. The Acropolis Slopes are a combo of slippery marble and loose gravel so you'll want your shoes to have a decent tread on them. We got there a few minutes after they opened (8am) and there was no line. By the time we got back down from the climb & seeing the Parthenon the line was huge and probably would have taken an hour to get in! Tickets are 20€ per person, or for 10€ more you can get a combo ticket for several other sites around Athens - this is what we did and I'd probably opt in for it again! One thing we missed, since Josh is school he could have gotten his combo ticket for 15€, but it is what it is. We ended up spending about 2 hours in total, but didn't take as much time reading all the things & listening to tour guides as we would have had we not been toting Eloise around ;)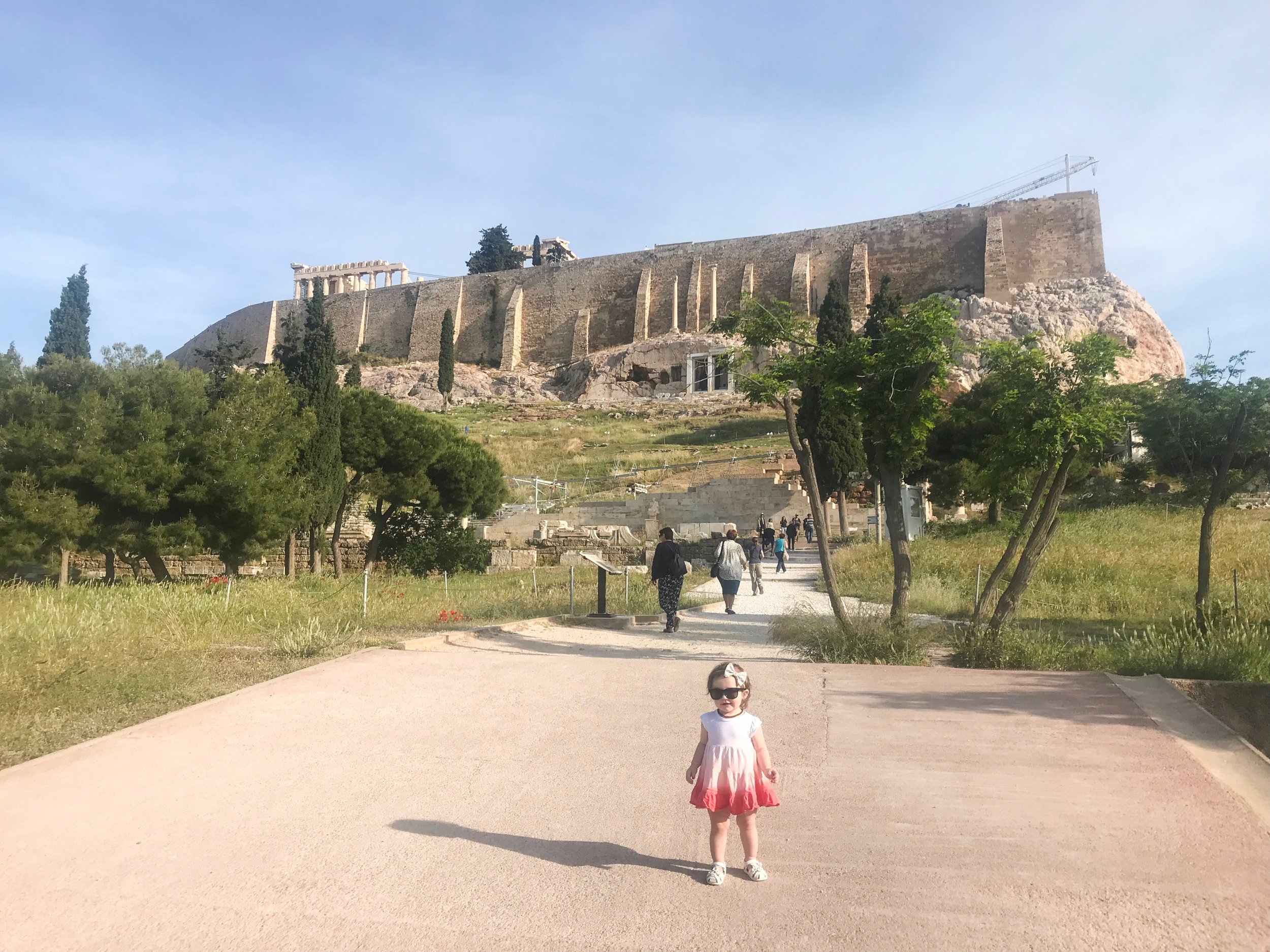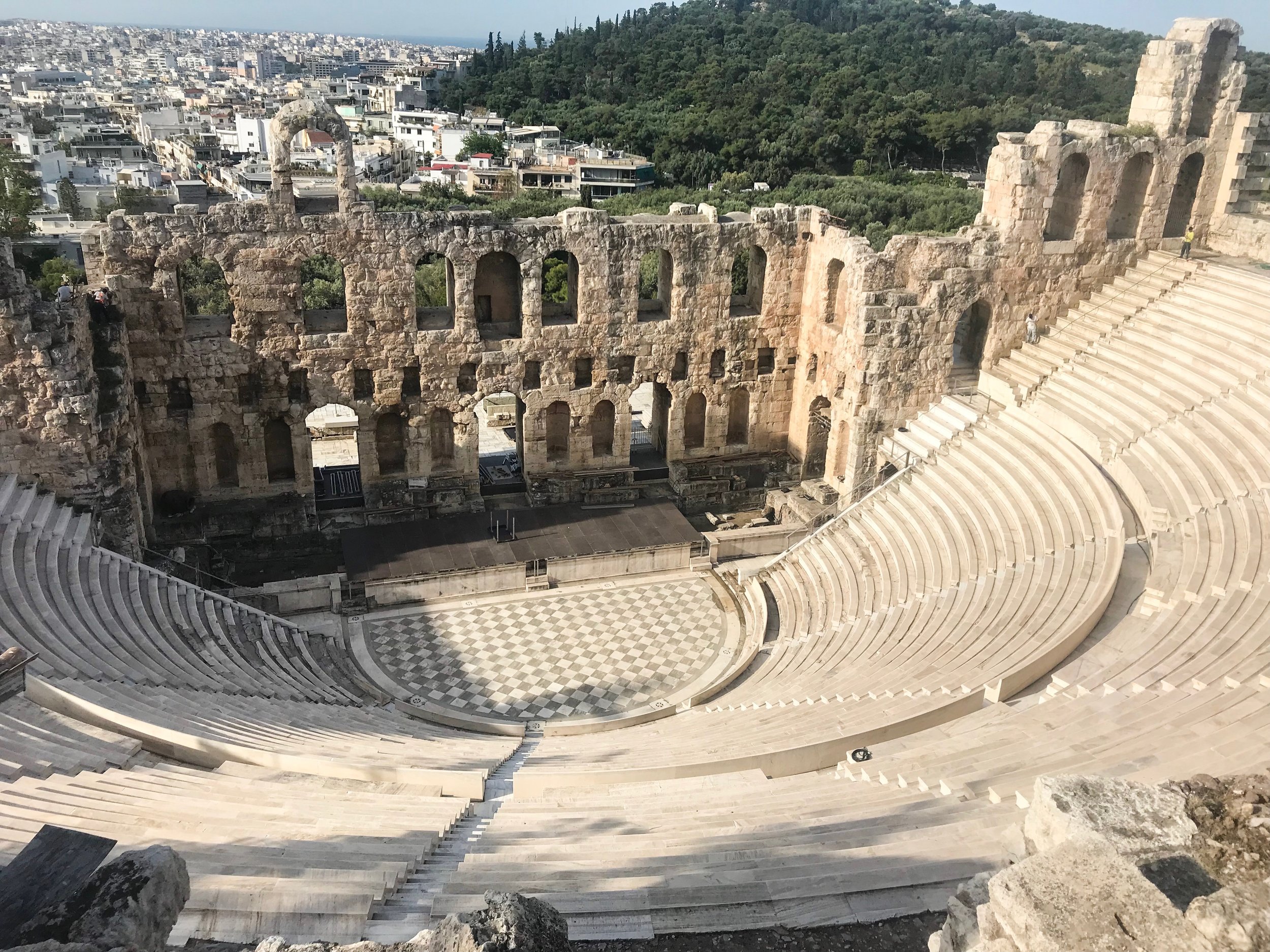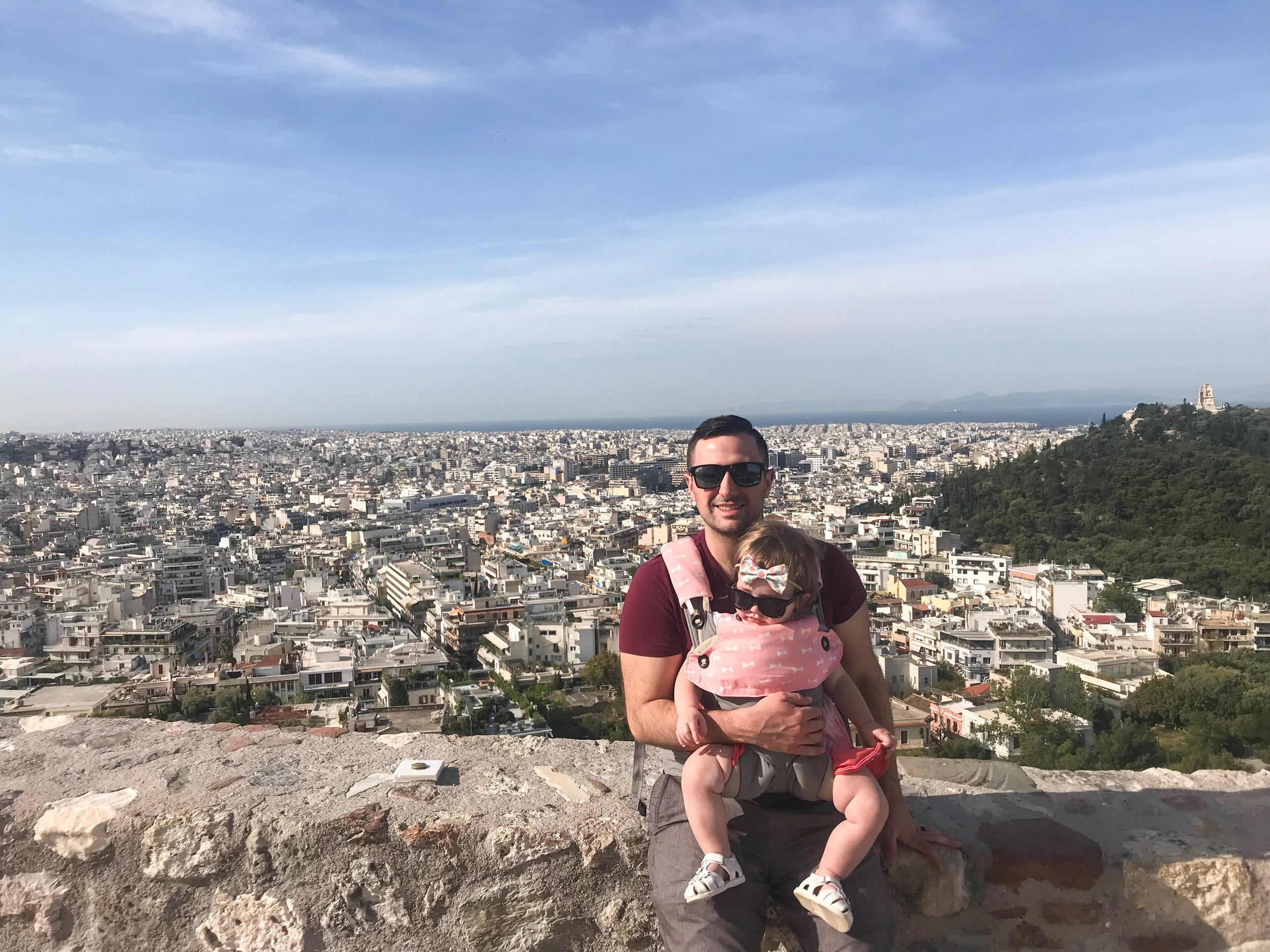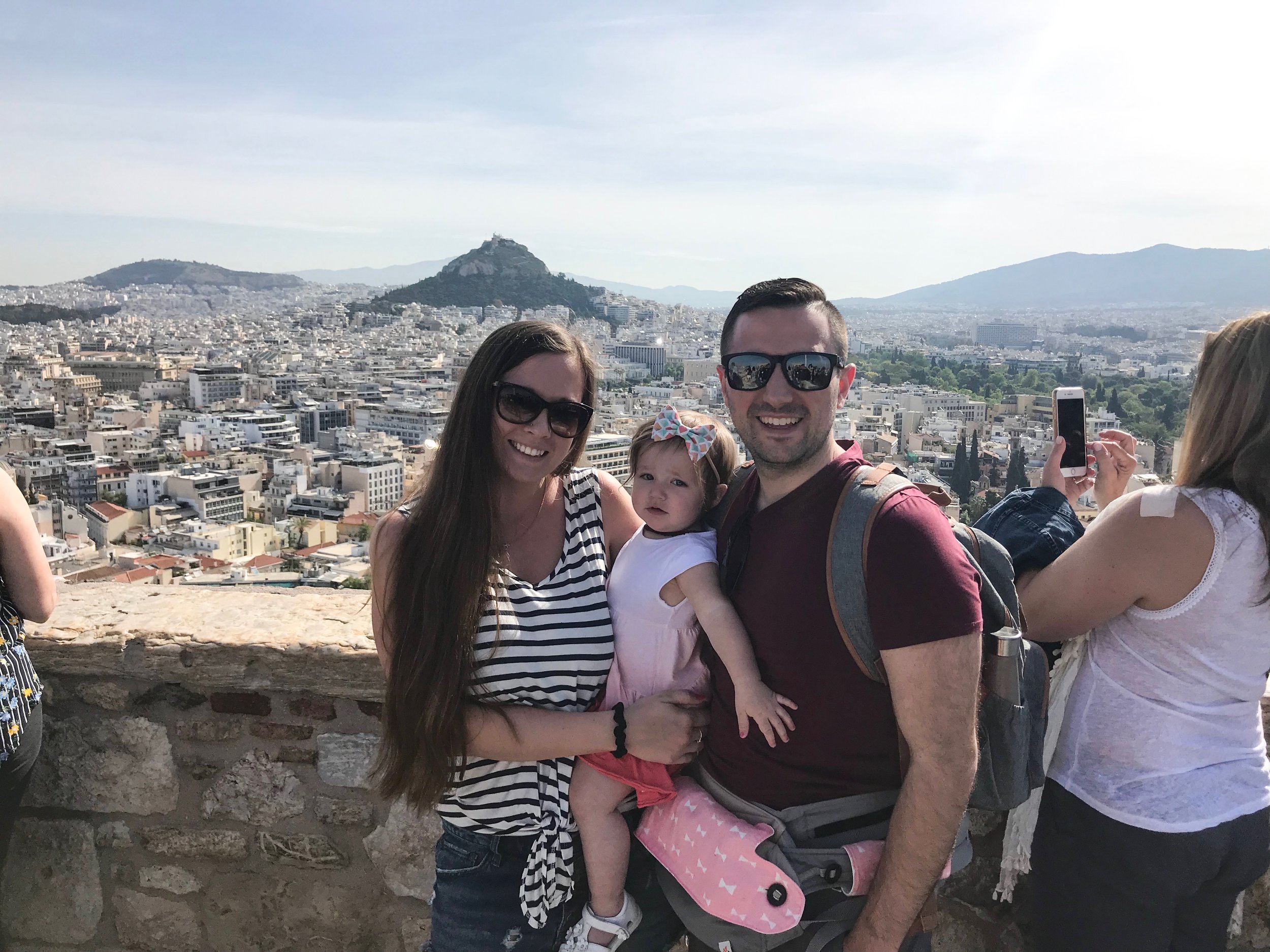 Eloise napped on the way down and we stopped at Areopagus Hill (a glorified huge rock haha) since we missed hitting it at sunrise. I wish we wouldn't have overslept because the view was gorgeous midday so I'm sure it was incredible for sunrise!
After Acropolis we stopped for lunch at what quickly became our fave Athens gyro place (o Gyros Pou Gyrevis on the map, but the sign just said "Souvlaki") and then headed to the museum. Acropolis Museum was cool to see, but if you're super tight on time – skip it! It was cool to learn more in depth about what we had seen at Acropolis that morning & only 20 for both of us (Eloise was free). Eloise wanted to touch all the things, which in a museum that has some of the oldest artifacts in the world is not okay…ha! But it was nice to give her some time to walk/run around inside without worrying about her tripping over rocks and whatnot.
**Huge tip about the museum..do NOT wear a dress. If you can't avoid it, be cautious of where you're walking. Looking directly up from the first floor you see through the second floor and beyond. It's a great concept for letting in gorgeous natural light…not a great concept for the women who were wearing dresses and were unknowingly exposed to everyone below!
Next we headed out to get some use out of our combo ticket with a stop at Roman Forum (yep, Romans in Greece. Do some reading before you go!) and an almost fruitless search for the Ancient Agora. On the map it looks like there are 3 entrances to the Agora, but we found out the hard way that's a lie and had to walk alllll the way around the whole damn thing. So we kinda got lost on purpose in Monastiraki, had lunch then finally found the entrance. (FYI, it's on Adrianou). The Stoa of Attalos was my favorite part of the Agora because of it's perfect repetitive lines….it seems like it goes on forever! Both sites were really neat, but if you plan on visiting them definitely go for the combo ticket with Acropolis that I mentioned. And if you're short on time, you can see from a distance around the gates! :)
We wanted to catch a good view at sunset so headed to Philoppappos hill. It was an easy walk/climb and not crowded at all! If you stay long enough after sunset, there's an area with a great view of the Parthenon…really cool to see it lit up at night!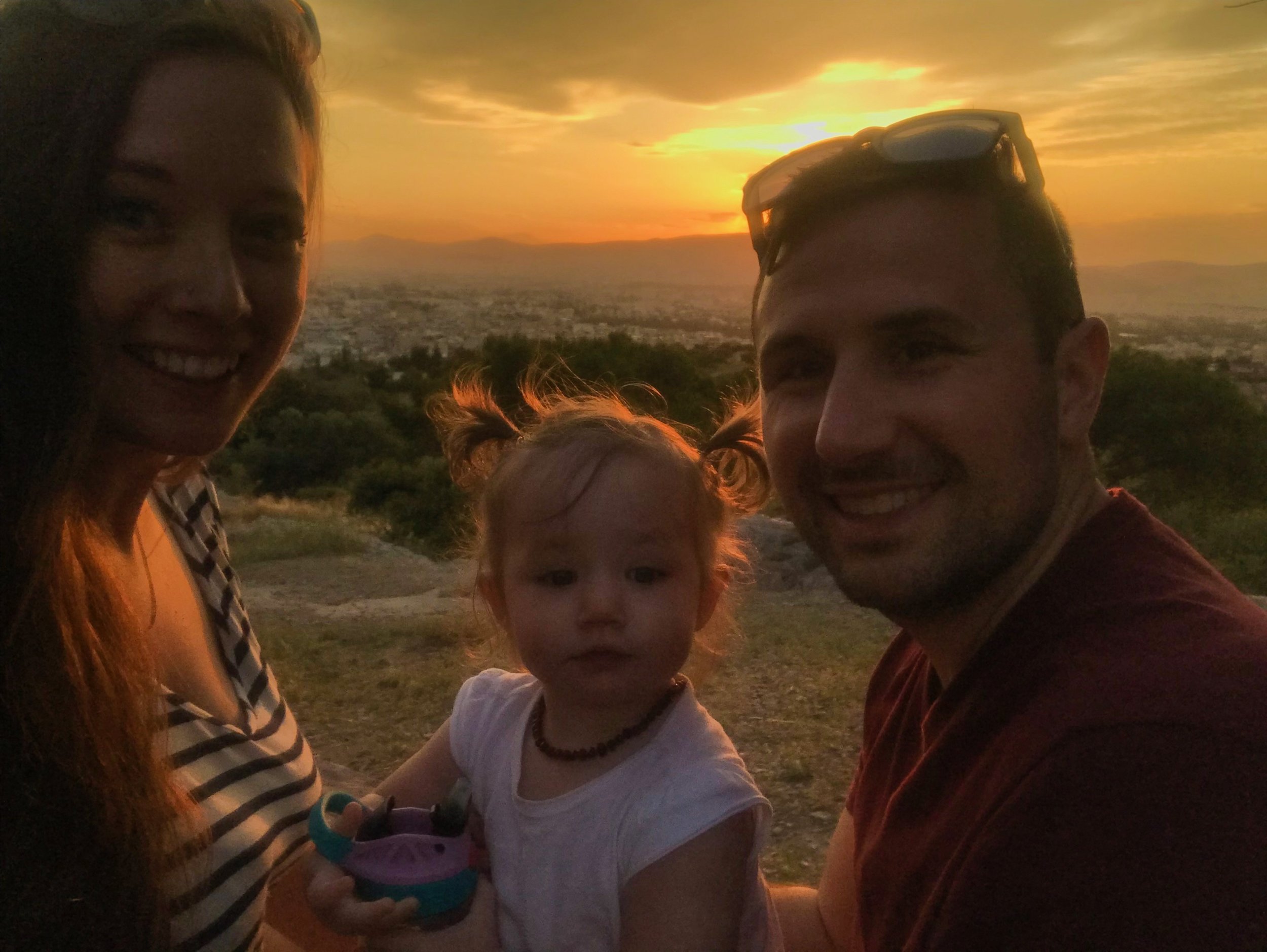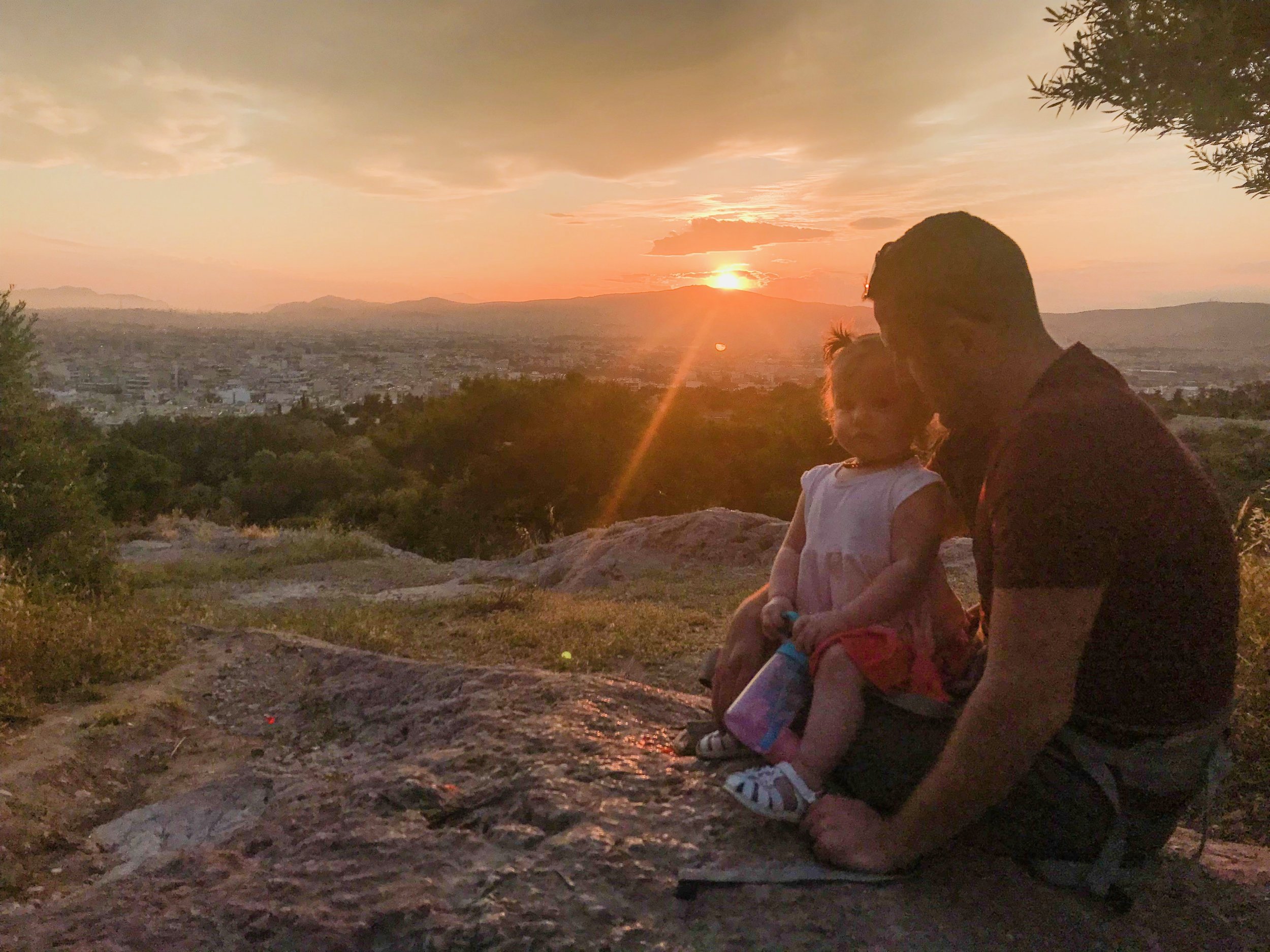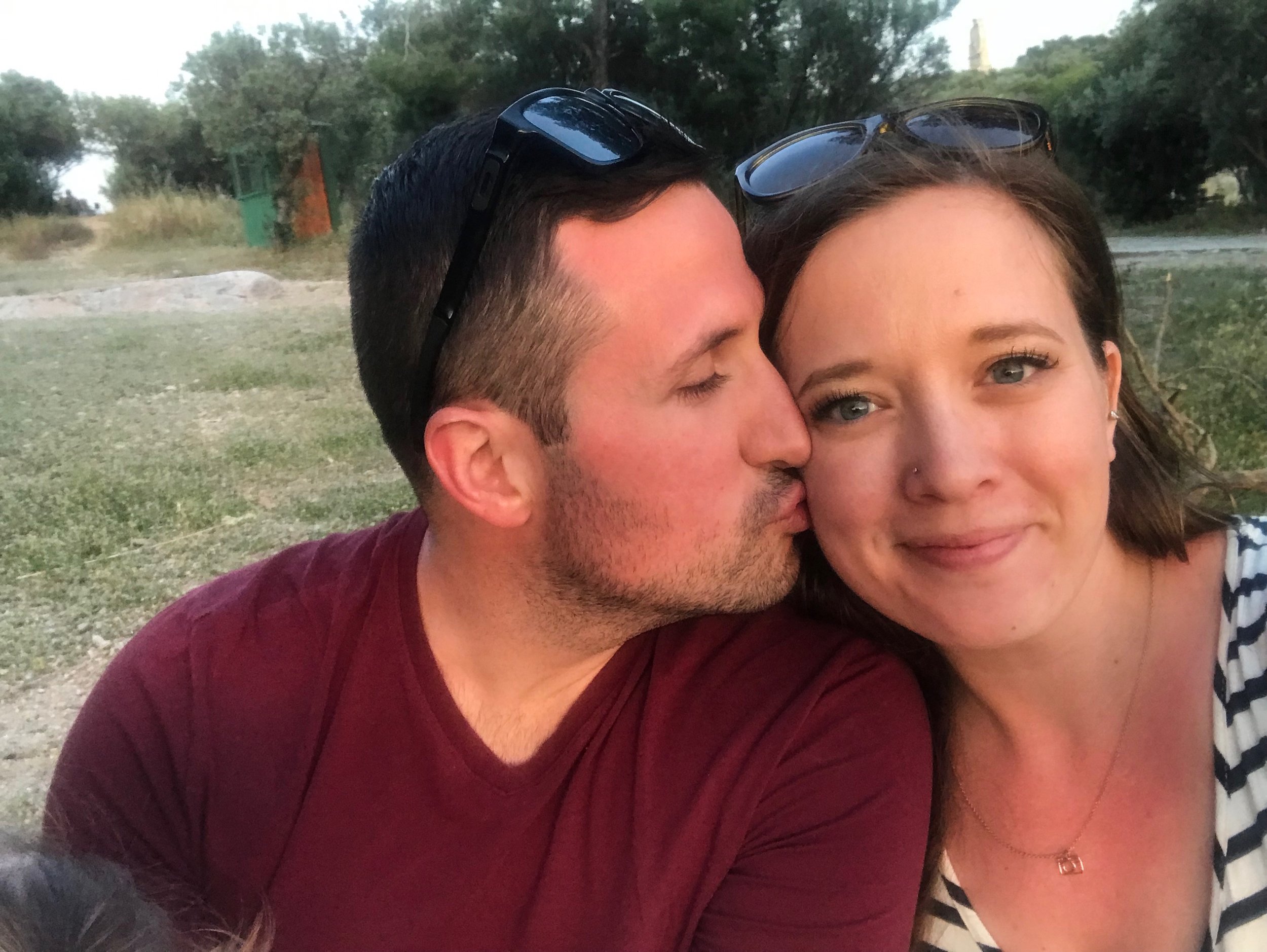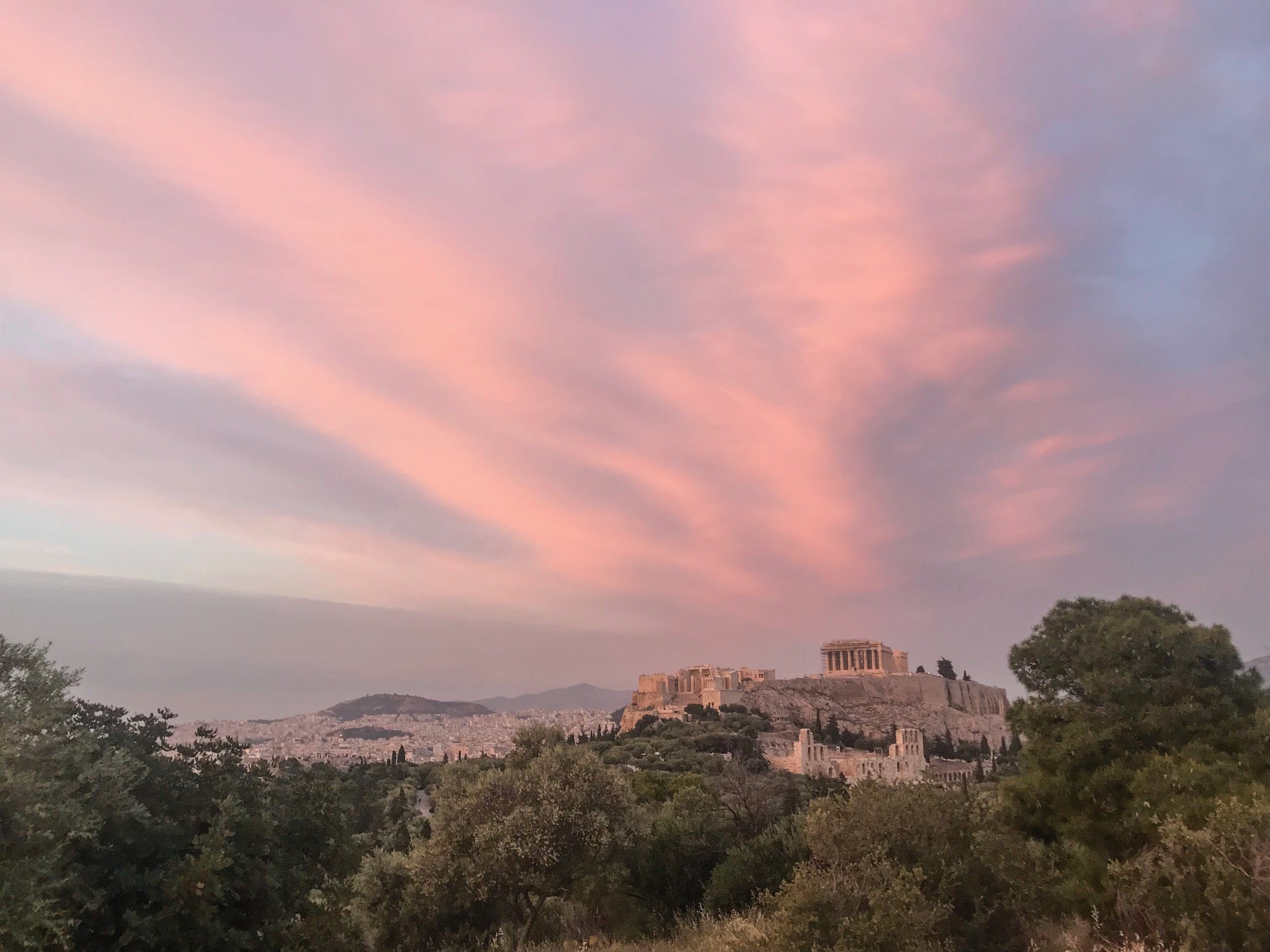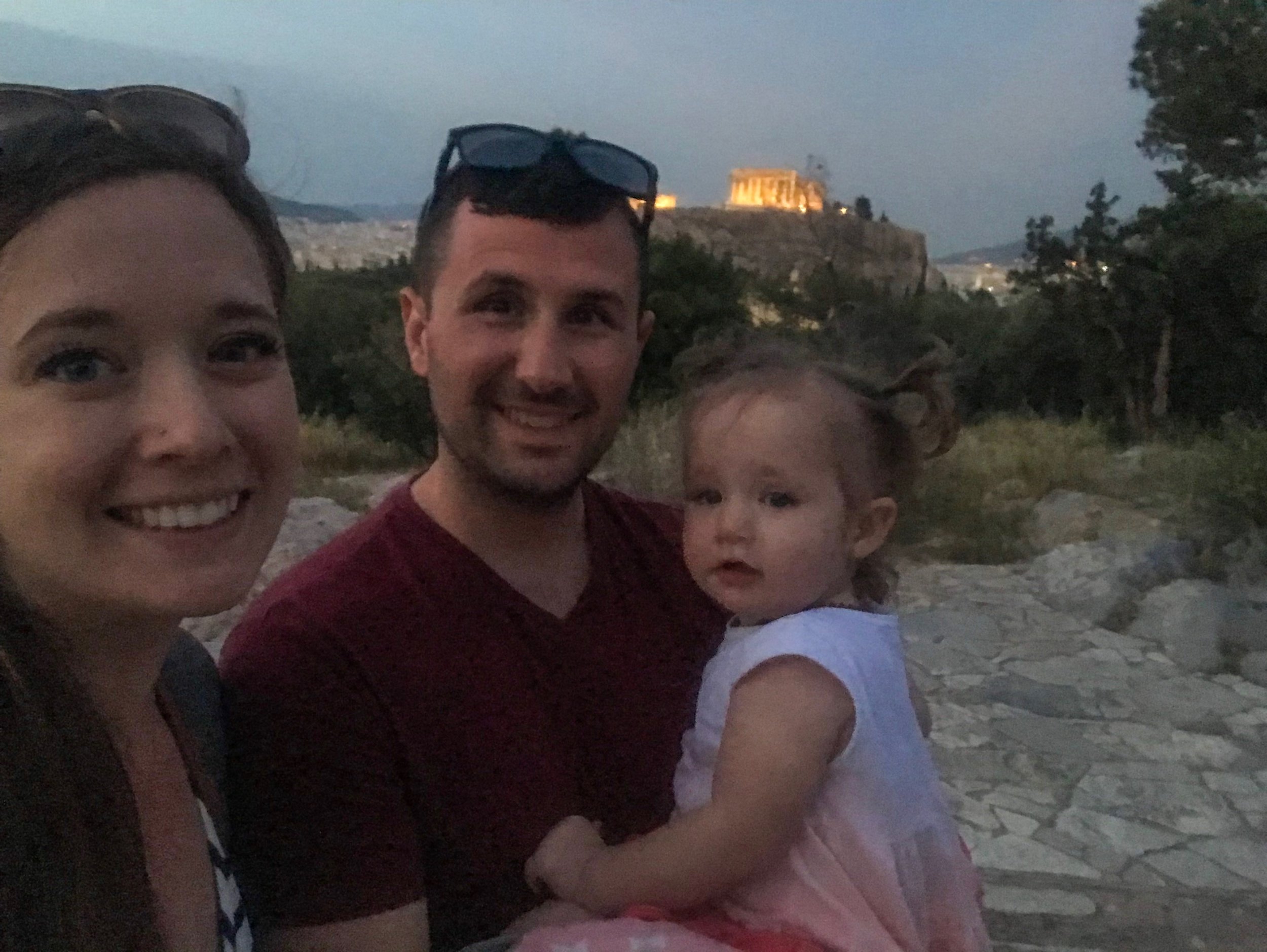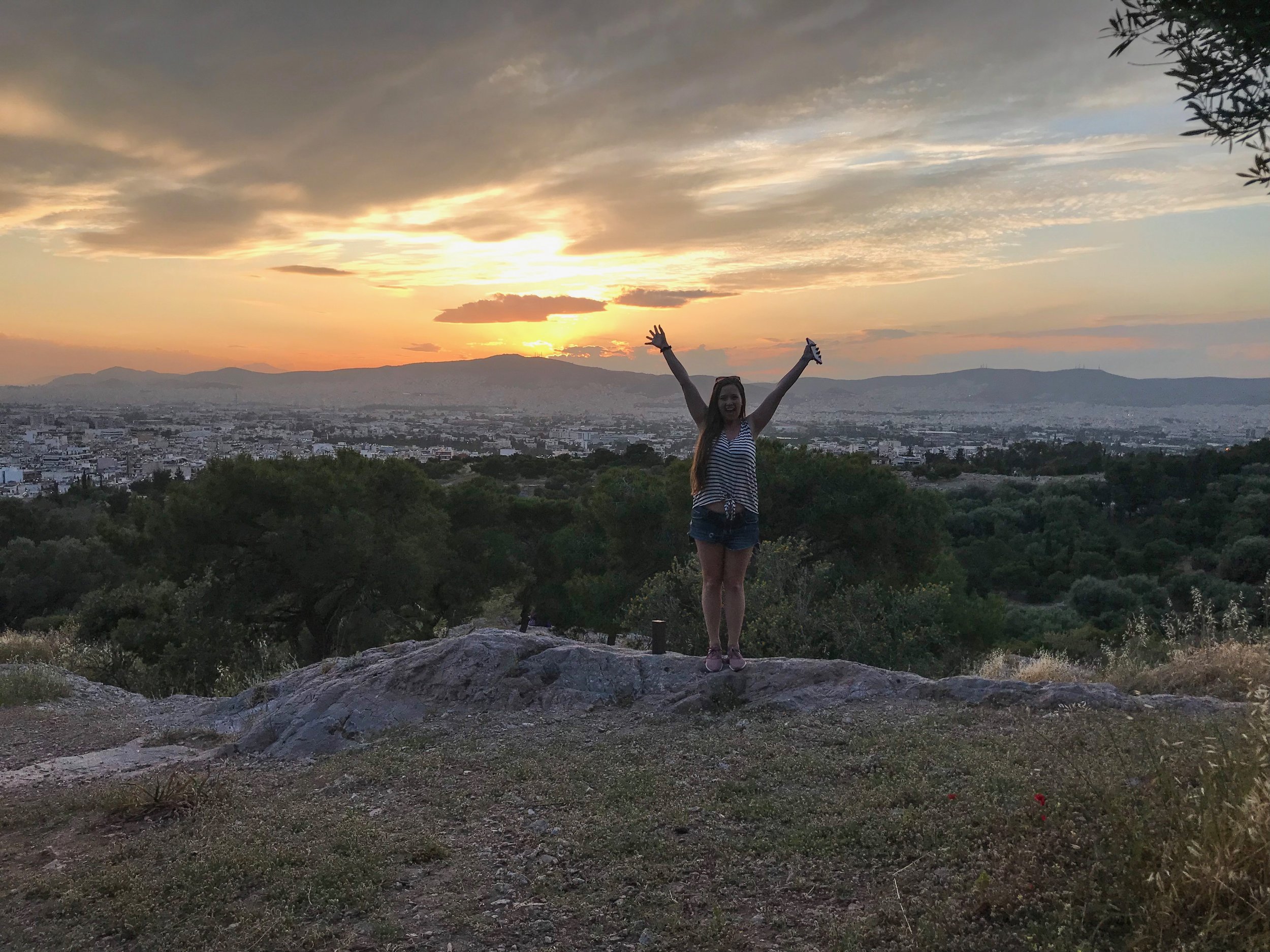 Day 2
Temple of Zeus: another site on our combo ticket…if you don't do the combo ticket you can get a pretty good view of it from outside the gate ;)
Next we hopped right down the road for brunch in the Plaka, did some wandering and ended up at the Monastiraki flea market for shopping. After checking out some of the GIGANTIC fruits (literally drool-worthy) we headed through Syntagma Square to the government building. ** We were surprised to find after reading tons of reccs to visit/hang out in Syntagma Square, that it as one of the dirtiest/sketchiest areas we came across in Athens. ** We timed it just right to catch the (really interesting) changing of the guard that happens every hour. You can snap pics in front of the building and guards, but be careful of where you stand! Apparently you aren't allowed to go past the marble line onto the stairs, we saw a couple tourists sit on the stairs, the guards all went a little nuts!
After the guard we took a stroll through The National Gardens. SO pretty, and it was nice to cool off in the shade and have a seat to people watch for a bit! One of the garden exits comes out right next to the - Panathenaic Stadium. You can pay to go inside, but you can get so close without entering that imo, it's not worth it! Really cool to see and take in the massiveness of it, though!
Onto the most T.I.R.I.N.G. part of Athens. We kept reading about climbing Mt. Lycabettus for amazing views of the city. We made the mistake of assuming it would be an easy climb like the night prior. WRONNNNG. Be warned, this is literally hiking up a steep inclined mountain, only it's not just a slight incline. It's mainly steep stairs the whole way up. If you're going for sunset like we did plan ahead - go early and bring drinks/snacks. And be prepared to get elbowed from people trying to get a better view once the show starts 😉
Ended the day with dinner in Plaka and a sleepy baby! I'll mention this in my upcoming generic "traveling with kids" blog but it deserves to be mentioned multiple times - invest in a good baby carrier! You'll notice in 90% of the photos that she's in the carrier! In other cities (like when we did Boston) you can get away with a stroller in some instances, but in Greece you NEED a carrier.
Day 3
Our last day to explore Athens, and we kinda left - ha! So many recommendations to get out of the city for a day or half day trip to explore the coast and Temple of Poseidon. Would we do it again? 100%! Would we do it differently…yep! We paid 160€ for our original cab driver to take us around for the day (I want to say 6-8 hours was included?) Our first stop was to take a look at Vouliagmenis Lake. It was gorgeous, and had we known the rest of our day would go so quickly we definitely would have stayed to swim! It does cost (can't remember exactly how much, want to say 15-ish per person) because it's "organized" and well kept, but looked so refreshing!
After leaving the lake we had a mediocre lunch (lunch places were far and few between, not terrible but it definitely wasn't memorable!), and we went to a perfect and quiet little beach right across the street! We spent an hour there and tops we saw 2 other families on a pretty big stretch of beach! The water was crystal blue, when we got back to the car Ross let us know if the beach has more pebbles than sand it will be cleaner water! This little beach trip was a HUGE success for us, 2 weeks before we left for the trip we found out Eloise had a HUGE aversion to sand. Like lost her ever-lovin' shit the second it touched any part of her. We spent the next two weeks working her into liking it little by little and for the most part it worked…but we prepped just in case with water shoes and an extra large blanket towel. As you can see by the pictures…huge success!! 😍
Next was an incredibly beautiful drive up the coast. I think we have an hour worth of videos of the drive alone because the views were so out of this world! Eloise fell asleep on the drive up so Ross pulled off at an area on the way (there were a ton of areas to do this!) so we could take some photos.
And finally, we made it to our main destination! We heard that the sunset at Temple of Poseidon was awesome but since we had an early flight the next morning that wasn't going to cut it! It was 8€ for me and 4€ for Josh to get into the site (holla for student discounts abroad!) so not terrible, and worth it for the view! We probably spent about 45 minutes or so wandering around and taking it all in. If you're up for more hiking you can take one or three of the paths they have to get down the peninsula.
On the way back into the city we stopped in a cute little town on the hunt for gyros (but didn't find anything open, boo!), walked along the boardwalk and let Eloise run off some steam at a little playground. She promptly pushed a little Greek girl, so we headed back for our last dinner in Monasteraki Square (street gyros for the win!) and some AMAZING ice cream at Davinci.
Next stop, Santorini! We arrived at the airport about 90min before our 7:10am flight and had plenty of time. Especially if you have a baby, you will get the royal treatment and breeze through security! :)